I've spent thousands at ShopNBC. At one point I was extremely addicted and bought tons of jewelry I'll never wear. Diamonds, rubies, sapphires, you name it, I bought it. All designer stuff, too. For years I wanted a pair of diamond hoops. I bought one pair, designer, but they're too big for the office. So I continued to shop for another smaller pair. I finally found them - and I found a coupon for $50 off at ShopNBC BUT it was only for new customers. So I of course created a new account and bought the earrings, with the $50 off coupon (wouldn't anyone!). ShopNBC used to have good quality merchandise when it was ValueVision. But after it became ShopNBC and fired all the good hosts and designers, and started selling vacuum cleaners and other department store crap, the quality deteriorated to a really visible degree. The workmanship sucks, to put it mildly. Anyway I received these $500 earrings and hated them. The diamonds had visible black carbon bits in them and had zero sparkle, the earrings didn't close properly, and instead of looking like 18k white gold, they looked like tarnished silver. Really bad junk. So I boxed them up and sent them back with a note saying "No Thanks." I also insured the package, of course, for $500.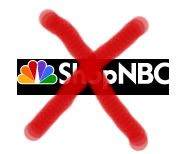 Well a month goes by and I see they've continued taking payments out of my checking account. So I called up and asked what was going on? Can you believe this, but some woman gets on the phone and starts yelling at me that I had purposely sent them one earring and that I should pay in full for both earrings! I said wait, I returned the earrings, I don't even like them! She continued to yell at me for my "poor ass attitude" and stated again that I would pay full price, and if I wanted my money back, to go see the post office. Unbelievable!!
It was too late for the post office to help me. They only consider insurance liability within 30 days. This was more like 45 days and I was out of luck. So I called ShopNBC back again and asked them if they found the other earring yet? I got yelled at again, called a liar and cheat, and they hung up on me. Mind you I am a very mild mannered woman. I was appalled.
Another month went by and they deducted more money. There was no way to stop them because the purchase was attached to my debit Visa, not a regular credit card. I didn't know what to do. I definitely put both of those awful earrings into the box, I know I did because they didn't snap shut properly and I really struggled with them.
So as far as I'm concerned, this was a scam on the part of ShopNBC, to take money from someone who returned an item. So now they have the earrings AND my $500 and I have nothing but fury and disgust for them.
I would like to warn everyone about ShopNBC. The quality is terrible and the customer service deserves to be jailed. They sell crap. I wish I'd kept one earring so I could take a photo and show it to everyone who is reading this blog entry. Those diamonds were AWFUL!! No sparkle. I would have been embarassed to wear them. And now I've been accused of being a thief!!
If you ever tune into that channel on your TV set, or if god forbid you ever look at their web site, I want you to remember to look
very closely
at the diamonds. You will see that they are opaque (you can't see through them because they are so included and cloudy), and they have carbon bits in them (junk diamonds). Do NOT buy anything from these people in case you ever have to return something. Because they will steal the item and blame you for the bad return and MAKE YOU PAY FOR THE ITEM YOU RETURNED. Remember this. They are bad people and they do bad business! Completely unethical!
My goodness am I ever cured from buying anything on TV ever again. I'm done with that. And I sincerely hope ShopNBC and all their affiliates go bankrupt and their "bad ass" name-calling people go down with the ship.