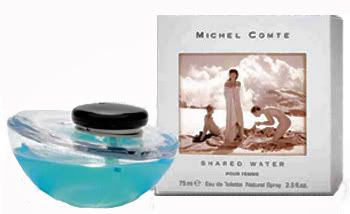 1. The bottle is STUNNING!! You see the black piece on top? You press that, and it sprays perfume upward. So I put my wrist on the black cap and pushed, and voila, I had perfume on my wrist. The bottom is round, not flat, so the bottle rocks and the aqua colored perfume looks very "marine" LOL.
2. This perfume starts out with a smashing narcissus/patchouli combination. You thought you'd tried everything, right? Wrong! If you like TDC Jasmine de Nuit, and/or Angel, you will adore this bright sparkling combination of the two. Except one thing: the patchouli is blended down into the jasmine so that it seems you are inhaling a spring garden, dirt and all. You know why? Because bergamot adds a punch to it, and the violet adds an earthy sweetness. Very subtle bergamot and violet. But how brilliant to combine these notes! The end result is such a gorgeous spring narcissus.
The notes are:
Top: Mountain Narcissus,
Purple Shiso,
Bergamot, Lily of the Valley, Violet
Heart: Freesia, Orchid, Vanilla
Bass: Patchouli, Vanille, Vetiver, Moss, Basmati Rice
3. Then the heart notes start cooking. Here, layered right under the strong narcissus and just over the sweet patchoulli, we find freesia keeping the sweet light on, and vanilla coming out of nowhere to add body and depth. Wow. So now the narcissus is floating sweetly on a bed of patchouli and the freesia and vanilla chime in to add character to the perfume. Now it's smelling more natural and yet, very sexy. There is a "skin scent-ness" to this. Oddly, the freesia also begins to make a more watery accord.
4. So now the water is starting to happen. It's an Atlantic bru-haha. Patchouli, violet and freesia are starting to get salty like a storm on the Atlantic, and meanwhile the narcissus and vanilla are providing a yachtsman-like full sail breeze. Now I begin to understand the "water" in this perfume.
5. More water in the form of basmati rice. Why does it smell like water? Because the rice is earthy, herbal, salty, rice-y, and if you add this to all the other notes which have not died down yet, you get a fabulous seaworthiness. Plus, big bonus here, the narcissus is still going strong!
6. Lasted 5 hours on me! Dries down continually salty sea with narcissus on top, which is pretty much the same as basmatic rice (a soothing note!). It just never quits being interesting and beautiful. I have finally found a marine fragrance I can LOVE.
7. I bought my bottle at first-in-fragrance.com.
I have been thinking about how to create an ocean accord. It's very hard but the only way to do it successfully seems to be by using floral combinations plus moss, and in this case, the lovely basmati rice. Narcissus is a sexy and sultry smell, and rice is a comforting smell, and moss, violet and patchouli are elemental smells. It's interesting that a photographer figured out how to make such a winning combination. I don't know who the nose was on this perfume, maybe someone else knows?